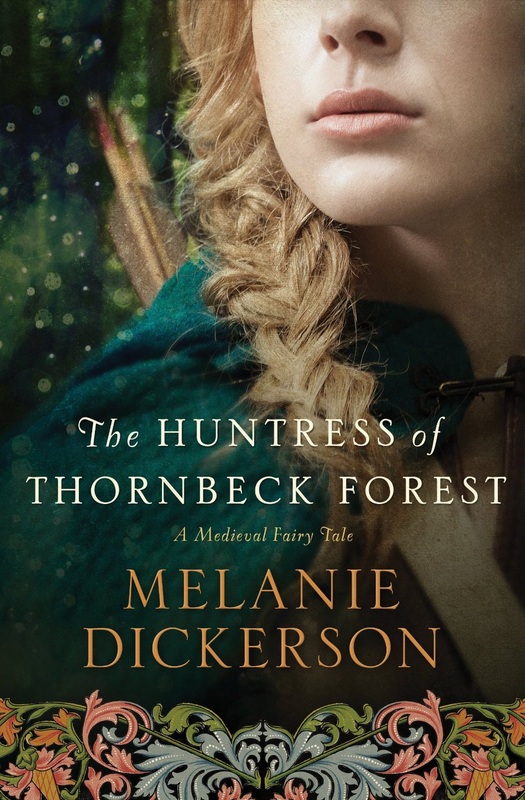 The Huntress of Thornbeck Forest
by Melanie Dickerson is the first book in the Tales of Thornbeck. I was super excited to read the author's newest book especially when I found out it was a mix of the Swan Princess and Robin Hood! But for me, the book did not live up to expectations. It just wasn't as good as the other fairy tale retellings. It started out pretty slow, and I had to force myself to keep on reading until I got about two-thirds of the way through. I thought it got interesting and more fast paced around there.
Odette Menkel is grateful to her uncle for rescuing her from the awful situation she lived in after her parents died. Now she is about to turn twenty-one and is still without a husband. Her uncle has never forced her to marry any of his business associates or friends even though it would be within his right. But if she married, she would have to give up her freedom of teaching and providing for the city's orphans. For the past year, she has been poaching deer from the margrave's forest, and she is becoming weary from lack of sleep and the guilt nagging at her. Is it really alright to steal the king's deer to feed the helpless? Or should she just marry to provide for the orphans?
Jorgen Hartman is the margrave's newly appointed forester. His adopted father was killed by a poacher four years ago so when Jorgen finds an arrow different from the margrave's in the forest he immediately begins to keep an eye out for the poacher. Jorgen is convinced it's the same man who killed his father and is determined to bring him to justice. What will happen when he finds out the poacher is a woman?
I liked how Odette was determined to help as many orphans as she could. She didn't let her good fortune make her forget what is was like to go hungry or to not be able to go to the town school. Jorgen really shone at the end of the book. He acted unexpectedly leaving me pleasantly surprised. I love to find a character doing something that's not what you suspected he'd do.
I was a little bored with the story because I had figured out the mystery early on, and I kept hoping I would be proven wrong. But I wasn't, and I was left wishing there was more depth, intrigue, and suspense. It was still a pretty good story overall, and I'm still interested in reading the next book in the series.
I was given this book free from Booklook Bloggers in exchange for an honest review.
Author's Website
Author's Facebook