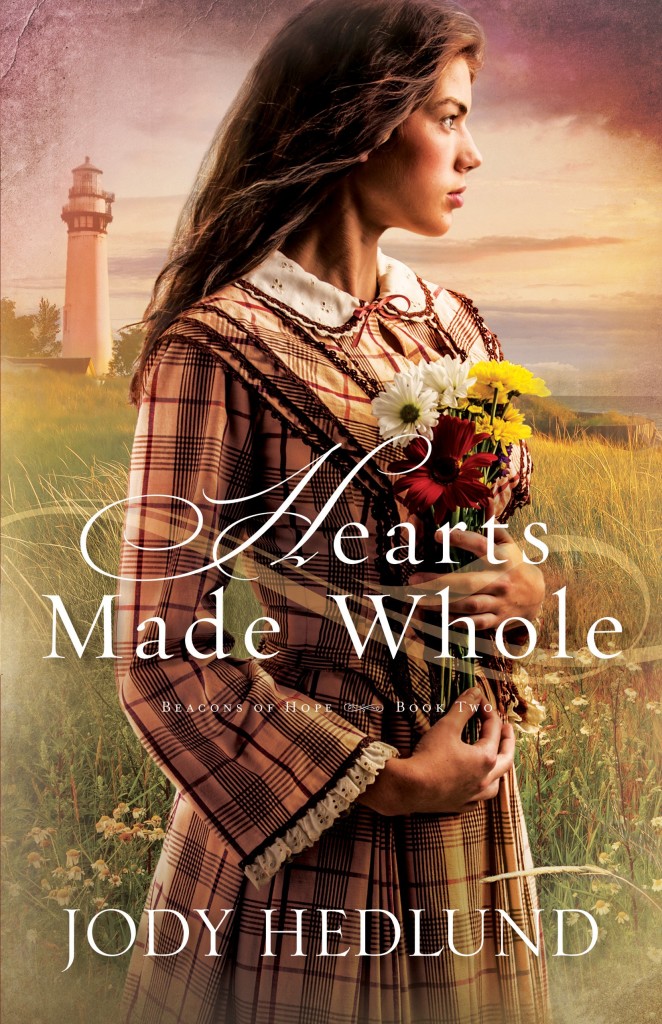 Hearts Made Whole
by Jody Hedlund is the second book in the Beacons of Hope series. I loved her first book in this series and got in a kick of I have to read Jody Hedlund's books! So I did. haha When I saw this book available to review, I knew I had to grab it. It'll help my Hedlund fix I'm in right now. ;-)
Caroline Taylor has been reeling from the shock of her father dying just four months ago. Determined to keep the job as light keeper at Windmill Point Lighthouse, she faithfully takes care of the light while trying to monitor her siblings especially terminally ill Sarah. But the inspector dislikes her and is forcing her to abandon the only livelihood for her family. What will become of Sarah?
Ryan Chambers, a veteran of the Civil War, is in constant pain from his battered arm and hand. He arrives at Windmill Point to take over the job a week early since he has nowhere else to go. Shocked to find a keeper already there, he decides to give her the week the inspector originally agreed upon. He quickly realizes that Caroline is much better for the job since he can barely function due to his addiction to opium pills and alcohol. Will he ever be able to conquer his need to escape from the pain and memories? Or is he doomed to be an alcoholic like his father?
Destructive things begin to happen to the people and grounds at the lighthouse leaving Caroline and her siblings shocked and dismayed. Nervous for her family's safety Caroline wonders if she should just marry her old friend and leave the lighthouse world behind. Will Ryan be able to convince her to stay?
I really liked Ryan Chambers. He was a very well-developed character, and I felt for all his troubles. He seemed like a realistic, believable character. But I have to say, I never really connected with Caroline. She wasn't written as well as Ryan and one of the few times I could connect to her was her passion for her garden. Oh, and I loved how she was with Ryan. She was kind and compassionate but also no-nonsense. I really liked her in those times. But for the most part, I didn't like her. Probably just me, though. I also thought there was too much passion written between Ryan and Caroline. I thought it needed to be toned down a notch. The bulk of the book seemed to be about their attraction to each other and why it couldn't be. lol I expected more story, I guess which is probably why I like Ryan so much. He brought depth to the book.
Oh, I loved how Caroline was based on a lightkeeper! So cool to know that back then they let a few women be keepers. Who would have thought?! Pretty awesome. :-)
I was given this book free from Netgalley in exchange for an honest review.
Author's Website
Author's Facebook