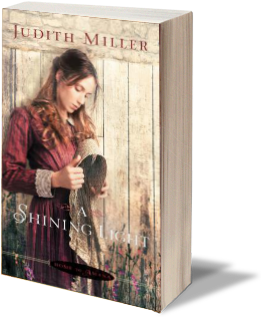 A Shining Light by Judith Miller is the third and final book in the Home to Amana series. I really enjoyed this last book. It was a different plot, and I loved hearing more about how people lived back then. Each book in the series is a stand alone novel, and if you enjoy reading Amish fiction then you will definitely like these books. I'm a historical fiction nut who likes some Amish fiction, and it was perfect for me. :-)
Andrea Wilson has just found out her husband died at sea. With a seven year old son and no job, Andrea has no choice but to go home to her father's farm. Using up all the money she has, she travels home only to find a burned down house, a rickety barn, and no sign of her father anywhere. Distraught and confused, Andrea and her son sleep in the barn overnight hoping to find some answers in the morning. The morning does bring answers, but not the ones she was hoping for. Her father sold his farm to the Amana colonies and soon after died in the house fire. With no money and no home, Andrea has no idea what to do next. When one of the Brother's from the colonies offers her a place to stay in West Amana until she figures out what to do, Andrea has no choice but to accept.
While there, Lucas thrives and Andrea feels free for the first time in a long time, but she isn't sure if she wants to stay here her whole life. When she meets Dirk Knefler, the tinsmith, her views start to shift toward staying. But then some disturbing news comes to her and disrupts all the peace she has begun to feel.
The people of Amana were a beacon of God's goodness and mercy to Andrea and Lukas. I loved seeing her journey from living scared to living with joy even amidst hard times. I don't want to say too much, but her character really resonated with me because of how she handled challenging times. In fact, her depth of maturity made her my favorite character in this series.
I was given this book free from NetGalley in exchange for an honest review. If you want more info on Judith Miller and her books, check out these pages.
Shining Light, A (Home to Amana Book #3)